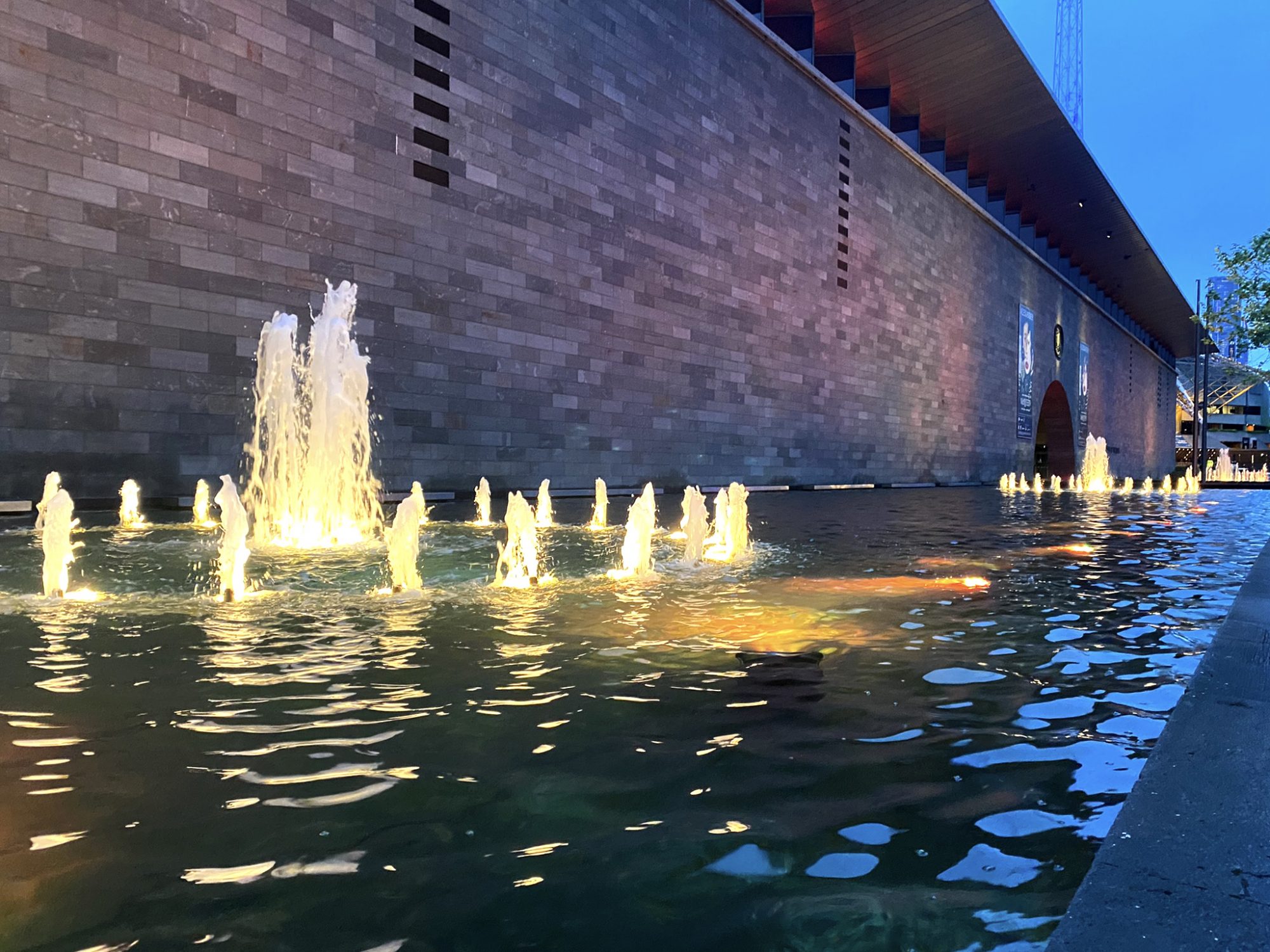 Australia's oldest public art museum, The National Gallery of Victoria, has upgraded its outlook to the streets of Melbourne with a stunning façade lighting project. Boasting the title of Australia's most visited gallery, with works ranging from contemporary performances to millennia old historic pieces, the familiar moats aligning the outskirts of the grand bluestone walls along St. Kilda Road have now become home to lights communicating messages of colour across the façade.
Lightmoves supplied the control and lighting fixtures which are submerged in the waters of the gallery's surrounding moats. Utilising 103 Space Cannon Liquids, the outer walls of the NGV are bathed in a multitude of selected and programmed colours whilst also providing a brilliant dispersion of luminescence throughout the water.
The solution required a complete draining of all the water from all five moats and subsequent cleaning of all the muck-soaked, wish laden coins that had accumulated over the years. Workers foraged and swept for a week to prepare the space for the installation. Custom all in one power & data cables with IP68 connectors and long tails feed each of the Space Cannon Liquids from their positions around the moat to their respective control cabinets. Each control cabinet has been fitted with a custom fan cooling solution designed by Lightmoves to minimise any risk of the drivers and controllers overheating and maintaining a constant and desired operating temperature.
Philips Dynalite network gateways and a front end power management control solution were a necessary and vital component for the installation. A major requirement by the client was to be able to fully control all elements of the fixtures including powering the system down when not in use and the ability to choose from a magnitude of colour combinations which will sprawl the National Gallery's façade.
The new lights immersed in the gallery's moats have had their control system integrated with the current Philips Dynalite lighting control system that had been installed throughout the NGV by Lightmoves. The existing gallery wide lighting system allows control of all the individual gallery spaces, including the moats and can be controlled from a single location all running from Control Soft.
Along with beautifying the exterior, the RGBW colour fixtures will enable the gallery to commemorate events and celebratory moments throughout the year.
Products Used:
– TecArt Control 4, 4 channel DMX drivers
– TecArt 4ch DMX Splitter
Project Manager: Joseph Rogan
Lighting Design: Jess Perry c/o Electrolight
Electrical Engineer: Sam Adams c/o Umow Lai
Installation: EPM&C
Lighting and Control supplied by: Lightmoves Pty Ltd
Lighting Fixtures by: Space Cannon
Control by: TecArt & Philips Dynalite