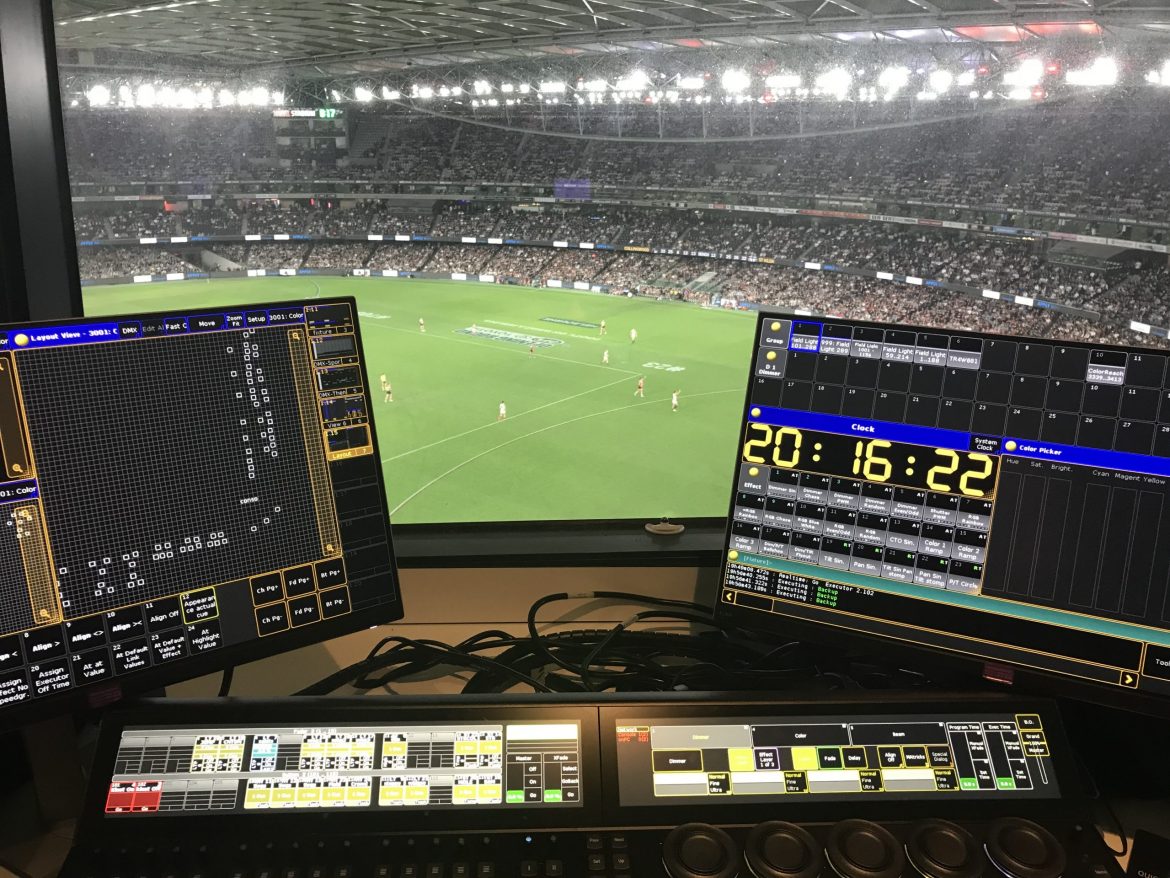 Lightmoves has had a stellar year in 2022. We are so proud of the many projects we have been a part of and our team members who have made it happen. Across lighting control, LED and theatre technology, we have delivered innovative solutions of the highest quality for a range of clients and requirements. Here are just a few of our highlights for 2022.
Southern Cross Austereo (SCA) Studios
2022 saw SCA Melbourne relocate to their new state-of-the-art headquarters in South Melbourne. The workspace is home to Fox FM, Triple M and LiSTNR and contains purpose-built broadcast and recording spaces. Lightmoves delivered Dynalite lighting control and DMX across the site, making sure the lighting in each space could be adjusted to suit each show.
The design brief emphasised the importance of visual appeal – the studio environment had to support the SCA's growing visual digital presence. Lightmoves contributed to this aspect through lighting control. RGBW light fixtures throughout the studios can be changed to suit the radio shows on air. The lighting control uses a system manager head which gives SCA technicians full control of all lighting installed.
Marvel
Marvel stadium is undergoing a significant expansion and refurbishment due for completion in 2023. This year Lightmoves was involved in upgrading control of the sports and thematic lighting in the bowl of the stadium using a Dynalite/Pharos DMX lighting control system.
The upgrade will allow Marvel to continue to host top-level competitions like AFL and Big Bash cricket. Lightmoves completed Dynalite lighting control, Pharos DMX Control and installed a new lighting console capable of sports lighting and thematic lighting. Lightmoves will continue to provide lighting control in areas as they are built, such as the Town Square and City Edge developments, due for completion in 2023.
Prahran Arcade
The Prahran Arcade in South Yarra was beautifully restored this year by ABODE Builders, RBA Architects + Conversation Consultants, after spending years in a state of disrepair. The heritage building, built in 1890, features an intricate Victorian Italianate style façade. Lightmoves worked with lighting designers Glowing Structures to bring out the delicate architectural details of the façade using carefully programmed Dynalite lighting control. The lighting control dynamically shifts through different lighting scenes across the façade as the evening progresses.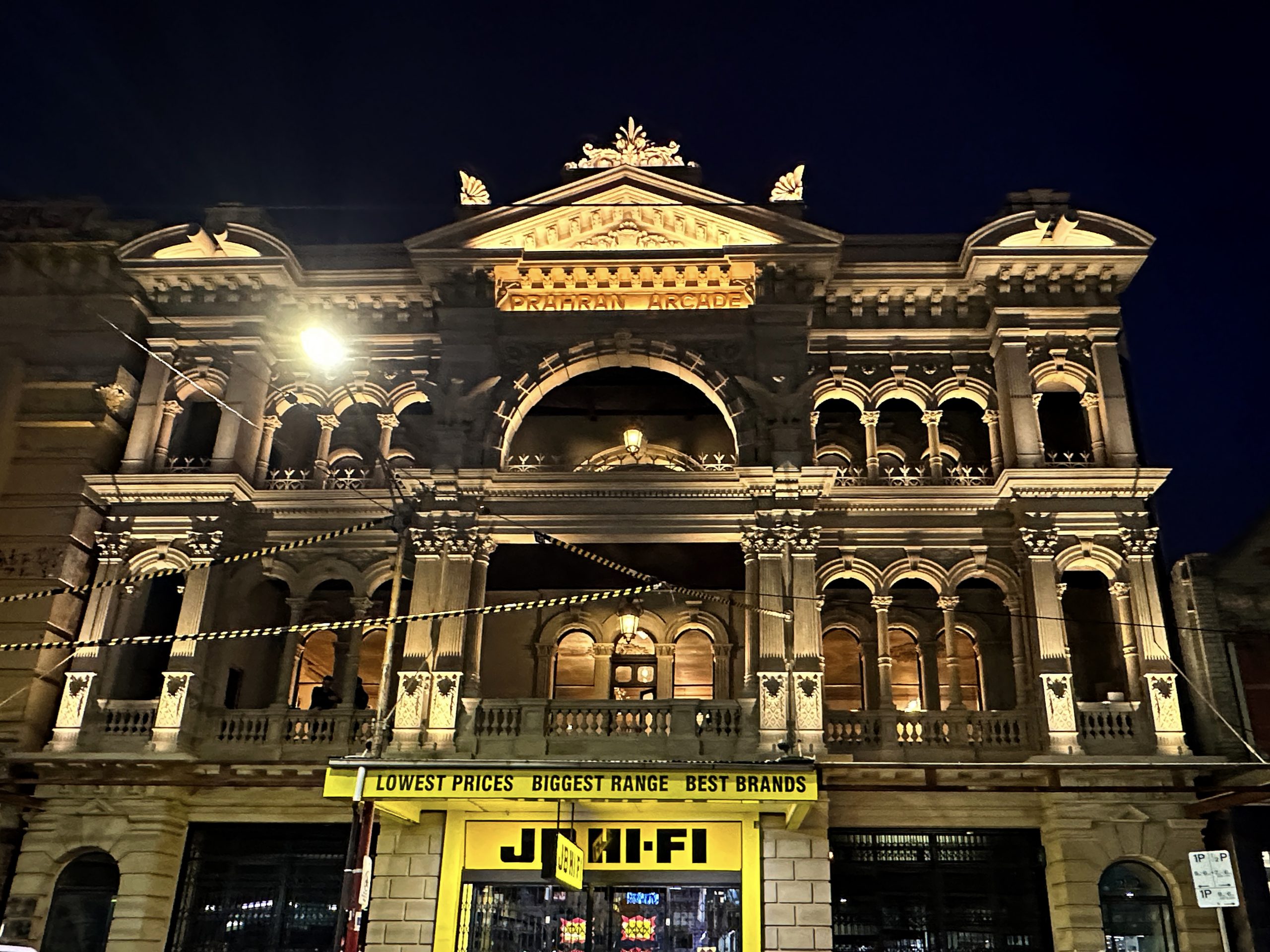 Marais Men
In 2022, Marais Men opened a new boutique store in QV Melbourne. The luxury fitout uses clever LED and lighting control to distinguish it as unique retail experience. The brief was to create a dynamic experience, with ceiling fixtures that light up in response to customers walking down a ramp inside the store.  Lightmoves commissioned the LED and lighting control, making sure this feature would be reliable and responsive.
Kardinia Park Stadium
Kardinia Park, Geelong's premier sports stadium, underwent a lighting upgrade this year as part of a major redevelopment. Lightmoves was selected to provide the Dynalite/Pharos DMX lighting control system of the new Phillips LED Sports lights that replaced the existing inefficient HID luminaires.
The new lighting control provides much greater flexibility and dynamic lighting that will enhance the overall patron experience inside the venue. The lighting control can effectively turn sports LEDS into theatrical lights, capable of responding to game play or dimming during half-time entertainment. The new system enables a level of interactivity that maximises not just sport but entertainment value as well. This capacity was seen in full display earlier this year when Kardinia hosted the Foo Fighters concert with great success.
IKON Stadium
2022 saw Victoria's IKON Stadium complete stage 2 of a major redevelopment which has transformed IKON into a premier AFLW venue and consolidated it as the long-term base of the Carlton Football Club. Women's football matches will no longer need to use temporary lights for television broadcast, thanks to new broadcast quality lights and lighting control. Lightmoves provided a Dynalite/Pharos DMX lighting control system for the lighting upgrade.
CSL Building, Parkville
The world-class CSL building is opening early 2023 in Parkville's bio-medical precinct, and will include seven floors of office work spaces and nine floors of laboratories.  Lightmoves was chosen to complete the supply, engineering and commissioning of a complete Dynalite lighting control solution for the building.
The Wonthaggi Hospital
The new hospital expansion in Wonthaggi underwent development this year. Upon completion it will feature 3 new operating theatres, a new emergency department and a 32-bed inpatient ward. Lightmoves commissioned a complete Dynalite lighting control solution for the building.