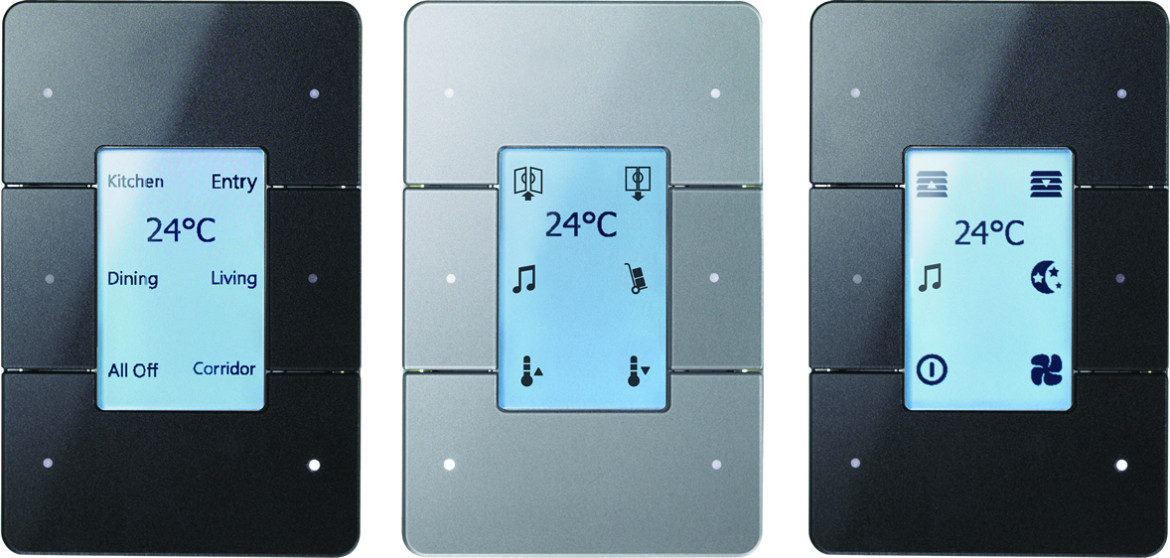 Philips Dynalite has already enjoyed tremendous success with the Antumbra range, including the AntumbraButton and AntumbraTouch control panels. It has now unleashed its long awaited follow up – the AntumbraDisplay.
Based on the hugely successful AntumbraButton, the AntumbraDisplay features a central LCD display to present multiple pages of functions and system information. Where previous versions of the Antumbra panel where physically limited to six buttons, the AntumbraDisplay can scroll through numerous virtual pages of different button configurations, making the possibilities endless.
The AntumbraDisplay brandishes all of the features that made both the AntumbraButton and the AntumbraTouch so unique, powerful and sought after. The AntumbraDisplay uses 'field effects technology' that automatically detects a person's presence and can initiate a stunning wall-wash effect. Each panel has its own integral temperature sensor that can be monitored and integrated with HVAC systems and light sensors to detect ambient light levels.
All of the Antumbra panels come with a range of fascia and rim colours to choose from. The AntumbraDisplay is available to order with Magnesium, Silver, White or Blushed aluminium fascia finishes and Aluminium, Chrome, Magnesium and White rim colour options. Custom icons can also be installed into each AntumbraDisplay panel.
Lightmoves has had Antumbra panels installed throughout many projects in Victoria -including offices, healthcare facilities and residential homes. The AntumbraDisplay continues the tradition of a smooth streamlined finish with multiple fascia and rim colour options in a feature rich unit.
For more information and Antumbra panels or lighting control solutions for your upcoming project or home please contact Lightmoves on 03 9701 2500.
The Philips Dynalite Antumbra range