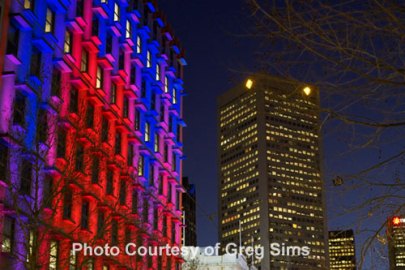 LED artwork to light up Melbourne's winter once more
As a general rule, winter in Melbourne is a rather cold, dull and drab experience and not one renowned for its abundance of colour. That was until 2009, when the colourful LED artwork 'Maxims of Behaviour' lit up the winter skyline on the façade of the Royal Mail House building; located on the corner of Bourke and Swanston Streets in the heart of Melbourne.  June 2009 sees the return of this artwork that transforms this distinctive 1960's era building that had been quietly and unobtrusively minding its own business for over 40 years.
As part of an initiative to increase awareness and create more talking points around Melbourne, The Melbourne City Council launched its "Illuminating Melbourne" initiative, which called for proposals from Australian artists to create a significant new public artwork within the Melbourne CBD. The proposals needed an emphasis on lighting, but more specifically on illumination and its ability to alter people's perceptions, as well to contribute towards making the city a more inviting place during the winter months.
Renowned designer Alexander Knox's kinetic light work 'Maxims of Behaviour' (the title being inspired by Lewis Carroll's poem 'Phantasmagoria') was chosen to reinvigorate the façade of the 40 year old Royal Mail House and was commissioned as part of the City of Melbourne's Public Art Program.
This now award-winning montage of moving light was created using individually controlled colour-changing LED fixtures located on the unique ledges that protrude from the building's façade. The individual control of the fixtures allows each luminaire to act as a pixel and creates for some very fascinating imagery, giving the façade a life of its own. Said imagery was produced from abstracted video footage of Melbourne's skyline at night, allowing the artwork to echo its direct surroundings.
Lightmoves – who had worked with Alexander previously on the Royal Domain Tower illumination – were invited to supply a solution that would make this concept a reality. After numerous site tests and demonstrations, it was decided that 88 Space Cannon Luxor LED luminaires, in custom housing, would provide the desired result. Also supplied was an Enttec E-Streamer, programmed by Alexander himself using Arkaos Pixel-Mapping software, which is used to trigger the colour changing sequences that make this artwork such a distinctive feature.
The 1030 m2 artwork is visible from dusk until dawn, every day of winter until 2012 and with the energy efficient Luxor LED luminaires – with a lifespan of 100,000 hours – being used, electricity and maintenance costs are drastically minimised.