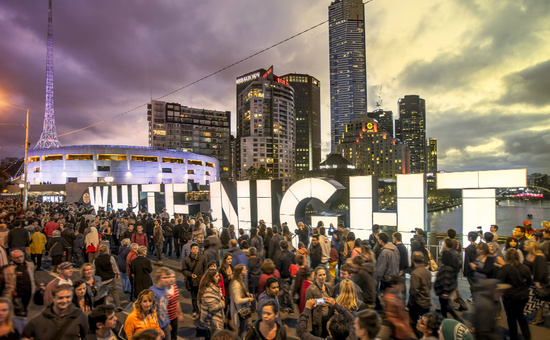 Melbourne will once again be awash with dazzling light at this year's White Night event. From the evening of Saturday 18th February through to the morning of Sunday 19th the Melbourne CBD will play host to various installations and shows decorating the city with colour, movement, sound and light.
Every year Resolution X, the hire division of the Lightmoves Group of Companies, is involved in providing equipment and assisting in the production of numerous shows at White Night. So whilst you are out and about in Melbourne this year, check out the following installations.
Also, you can follow twitter for photos and updates with the hashtag #resx.
Purple Rain
Little Lonsdale St behind State Library
Providing Rigging, HEX36 LED Floods, EX36 LED Floods, Outdoor Quad Pars and MartinMAC 700 Profiles in AirDomes.
Rhythms of the Night
REB Dome and Carlton Gardens
REB Dome – Clay Paky Mythos & Sharpy, Outdoor Quad Pars, W-DMX and MA2 Control
Carlton Gardens – Hercules Battery Wash
Universal Principle
Scots Church
Martin Rush MH6 LED Wash
Buskers Pitches
Various locations around City
Hercules Battery Wash
Secret Life of Statues
Various locations around City
Hercules Battery Wash
A Sign of Things to Come
Queen Victoria Gardens
Rigging and 5K Fresnel
Pyrophone Juggernaut
Melbourne Museum Forecourt
Martin Mac 700 Wash and Profile, Outdoor Quad Pars, Atomic Strobes