Why is lighting control so important for the modern workplace? 
We look at the rise of the 'destination office' and why lighting control is an essential part of the toolkit for contemporary architectural projects attempting to maximise efficiency, attract top talent and communicate brand.
Why are more companies investing in a 'Destination Office'?
Energy efficiency, health, productivity, brand representation and talent acquisition are now interrelated priorities expressed in the design of contemporary workplaces. The integration of smart building management systems is one of the most significant routes by which modern buildings are becoming better equipped to achieve modern ideals.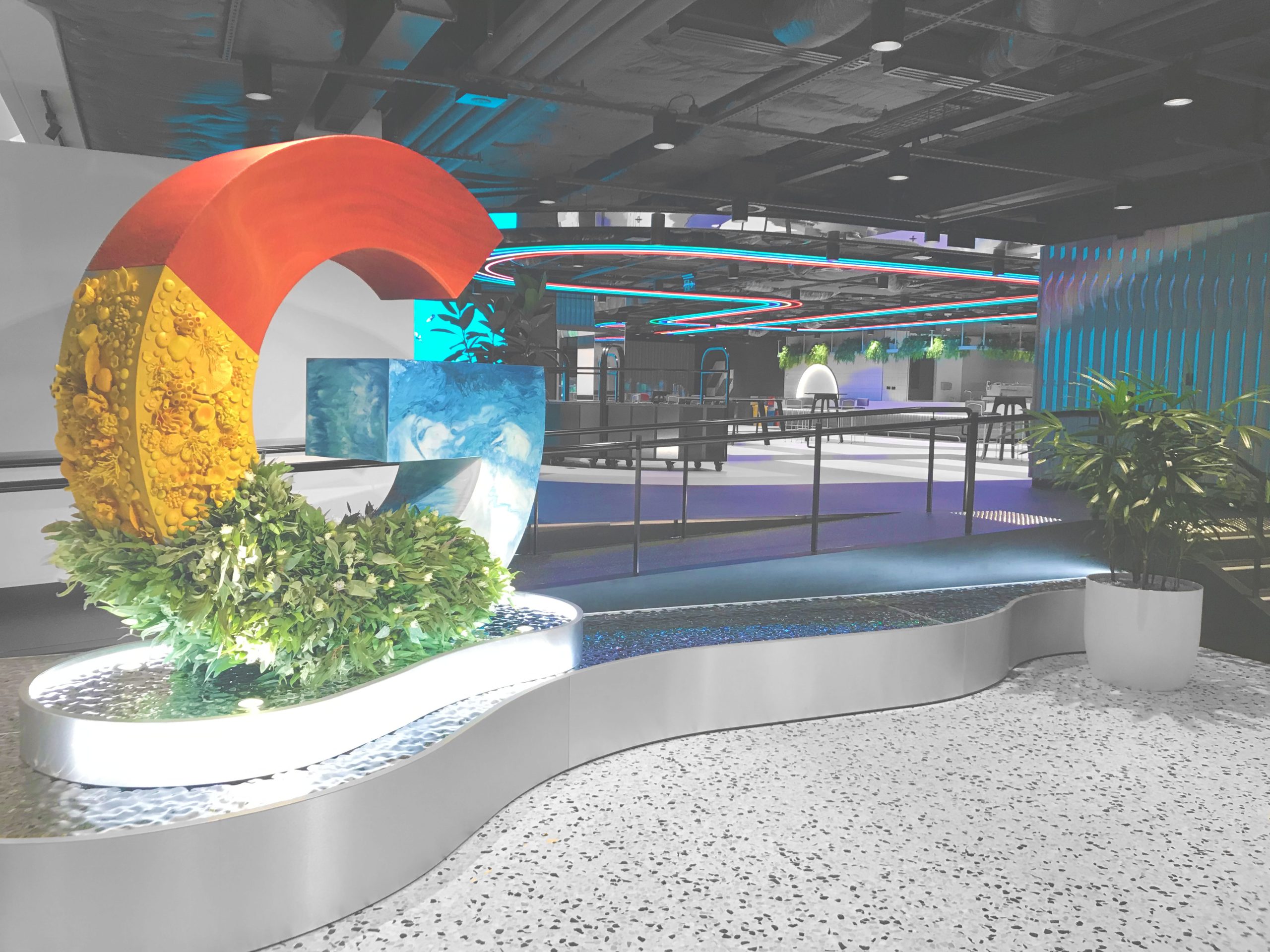 Google Event Space at Google Offices HQ, Sydney
Post-pandemic workplaces are contending with a seismic shift in expectations following the pivot to hybrid working models. Office spaces must be more responsive to change, as employees flow in and out throughout the working week. They must also be a help, not a hindrance, to employee's health, concentration and collaborative work.
Remote work has prompted many large companies to rebuild or renovate. Many wish to create a 'destination office' that embodies their brand and is considered an intrinsically useful and desirable location for employees, stakeholders and prospective talent.
Lightmoves has helped several business leaders complete destination workplaces with state-of-the-art integrated lighting systems.
We have helped big names achieve lofty goals – from tech havens for Google and Microsoft to Medibank's healthy HQ.
What is lighting control?
Lighting control is a form of building management. It allows for intelligent lighting which can adjust automatically according to occupancy sensors, daylight, time, season or programmed pre-sets.
Research has shown that light has huge consequences on the human body. Light quality can impact mood, productivity, sleep cycles and concentration.
Lighting control systems adjust light in order to minimise energy waste and maximise comfort.
Installing a lighting control solution can save up to 40% of energy costs.
So, where does lighting control come in?
Lighting control technology is used to elevate the principle design features of a building in terms of comfort, functionality and sustainability. These factors shape the 'destination office' and are used to attract talent and communicate brand.
"One of the biggest challenges facing commercial buildings owners today is how to reduce their building costs and carbon foot print without compromising occupancy comfort or productivity", says Daniel Walker, Global Hardware Product Manager at Philips Dynalite.
"Connected lighting control systems allow building owners to improve lighting quality, enhance efficiency and optimise energy usage, while also creating beautiful spaces that support the needs of users".
Using lighting control to elevate architectural intent
A lot of thought goes in to the design and execution of an appealing & efficient office space. In the creation of a contemporary workplace, one must ask – is the lighting elevating the architectural features, or wasting them? Is it increasing functionality, or downgrading it? Is it contributing to sustainability targets?
For Google & Microsoft, intelligent lighting systems aim to contribute to their building's capacity to promote movement, flexibility and sociability whilst also advertising the tech-smarts of their particular brands. For Medibank, intelligent lighting facilitates their on-brand goal of becoming one of the healthiest workplaces in the world.
Adjust the slider to change the colour temperature.
The colour and intensity of white light can be altered to support the end-users' lighting needs and reduce stressors on the body.
The natural circadian rhythm of a person can be supported by using warmer (relaxing) light with lower intensity in the morning and evenings, and cooler (energising) light during a typical working day. Colour temperature control can be used in many applications to energise, relax, and improve productivity.
Tunable-white products can mimic outdoor lighting conditions. This method of control using tunable white LED with smart energy efficient lighting control solutions can promote feelings of well-being and productivity in people who spend a large part of their day in artificial light.
Microsoft's seven-storey head office in North Sydney was completed in 2021. The intelligent lighting in the building's staircase, with lighting control completed by Lightmoves, exemplifies the application of lighting technology as a bridge between brand and architecture, art and science.
The control system animates 5, 500 independent RGBW pixels, which are embedded within and around the Corian-clad staircase over 7 floors.
Embedded within the Corian surface, which wraps the staircase exterior, are linear LED pixels, 1:200mm. There are also 12 independently controllable pixels per metre on either side of the handrail. Over the staircase, linear RGBW LED forms a beam of light above traverser's heads, controlled in two sections per floor.
With each RGBW LED pixel mapped within Pharos Designer, Lightmoves was able to offer theming per floor in colours and animations. The full seven-storey staircase can be used as a single canvas for low resolution video, multi-floor effects and themed media playback which reflects the Microsoft brand in various respects.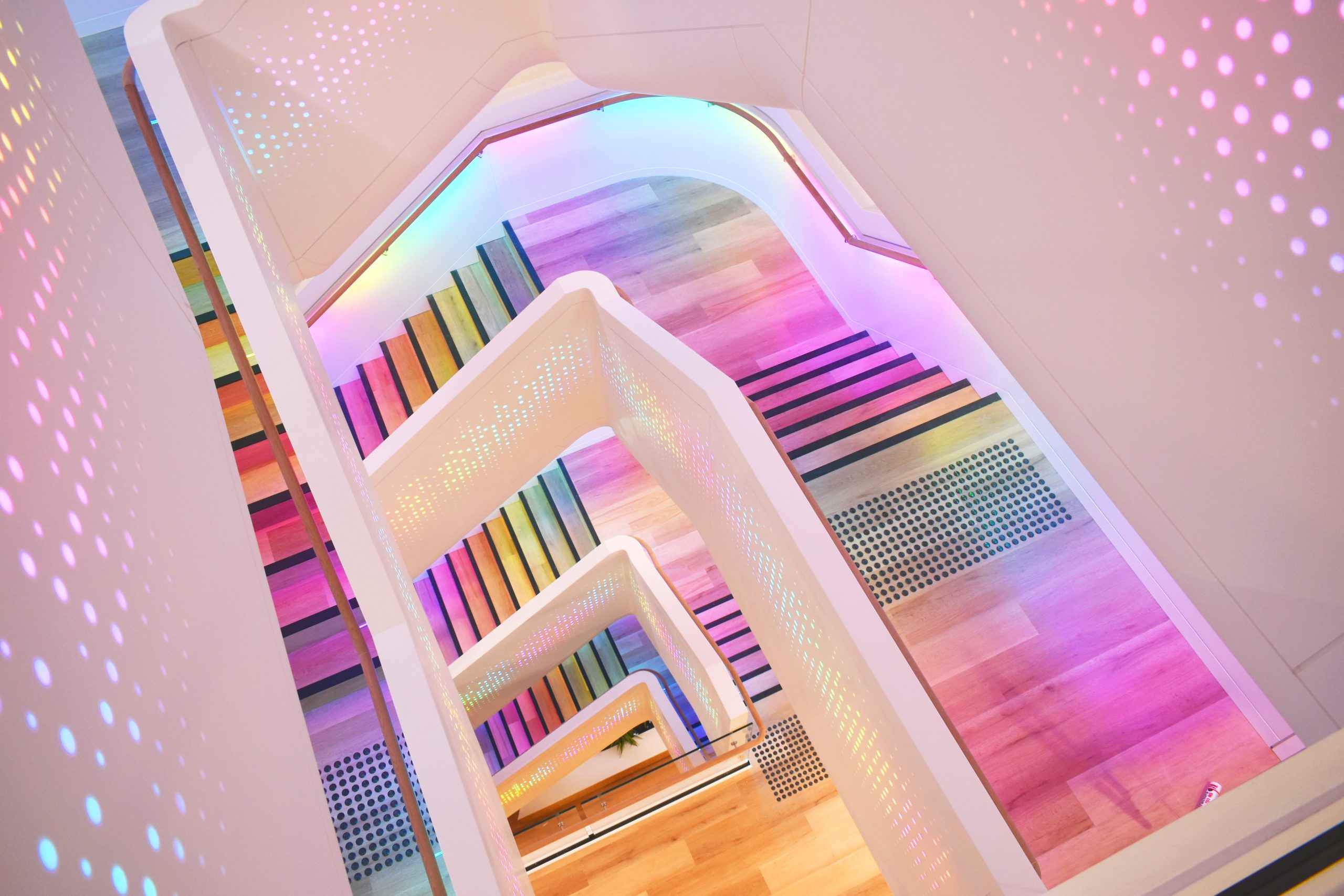 With each RGBW LED pixel mapped within Pharos Designer, Lightmoves was able to offer theming per floor in colours and animations. The full seven-storey staircase can be used as a single canvas for low resolution video, multi-floor effects and themed media playback which reflects the Microsoft brand in various respects.
The installation runs a digital art piece which references Microsoft's digital code. Artist Ken Lambert, of Ink Creative Studios, developed the creative concept with brand communication in mind. "My intention [was] to create a work that evokes the values of Microsoft", Lambert says. "Innovative and always in flux, in a manner that reflects its humanity and sense of community".
These values are expressed through integrated and responsive displays which feed off various data sources from within and around the building. "The installation provides Microsoft the opportunity to inform the mood of the environment, reflect the weather, or interact with the activity of users traversing through the levels", note the design team at GroupGSA.
The installation is made technically possible through the Pharos lighting control system completed by the Lightmoves team. Our commissioning engineers programmed the stairwell to react in specific ways to various 'triggers'. Night mode, for example, prompts each stairwell section to reflect the colour scheme of its respective floor. An in-house event will trigger the illumination of Microsoft's branded colours, whereas a storm brewing outside will prompt rain and lighting patterns to cascade down the staircase surface.
The staircase encourages employees to flow between levels and make full use of the building's social and intelligent design. It is both a high-impact architectural statement and a unifying visual tie between a diverse set of interiors, made possible through intelligent lighting control. "Intelligent lighting [and] advanced workplace occupancy sensors, linked to Microsoft platforms, are a key part of Microsoft's hybrid office experience", the Corian team explains.
The abovementioned traits are desirable, not only for occupants like Microsoft, but also for building owners who wish to attract such clientele. Microsoft is located within one of the smartest buildings in Sydney, at 1 Denison Street. The building, as a whole, demonstrates how modern objectives are being achieved in new builds, with lighting control a key tool helping to facilitate the shift.
One might think lighting features such as the Microsoft stairwell are energy intensive, but in fact, 1 Denison has minimised its operational cost and carbon footprint. The building has achieved a 5 Green Star and 5.5 Star NABERS energy rating, whilst the staircase, as an architectural element, contributes to the overall impression of 1 Denison as 'destination office' and covetable real estate investment. As architects Bates Smart remark, "No. 1 Denison is a highly permeable building that promotes visual connectivity and openness — hallmarks of today's workforce ideals."
Google's head office in Sydney is decked out with a serious presentation fit-out and meticulously branded architectural lighting, in line with Google Spaces around the world.
Google, arguably, popularised the concept of the destination office. It's no surprise, then, that Google Sydney prioritises wow-factor and employee experience in the workplace.
As the largest Google outpost in Australia, Google Sydney on Pirrama Road hosts events for a huge number of employees. Not satisfied with a run-of-the-mill power point setup, the architects specified a full theatrical entertainment fitout. Lightmoves collaborated closely with US theatrical consultants to modify specifications for the Australian market. The Lightmoves team went on to supply and commission lighting control for the entertainment space and architectural lighting in the foyer, which makes an immediate impression with custom neon-rainbow bands mounted to the ceiling.
Medibank HQ shares all the hallmarks of a destination office with Microsoft and Google, with a health-oriented twist.
Medibank Private's Melbourne headquarters is a symbol of what the private health insurer promotes in physical health and mental well-being. This workplace epitomises Medibank's 'for better health' purpose – every feature was designed with employee wellbeing in mind, including its lighting.
To support the natural body clock of staff and improve sleep and energy, lighting throughout the building simulates daylight by employing a circadian rhythm. Lightmoves provided the network lighting solution from ground floor to level 16, as well as the concourse and park. Using a Dynalite control system integrated with a central time-clock, the light fittings change colour temperature gradually over the course of each day.
At Medibank, intelligent lighting fits right in with other health and sustainability focused features, such as vegetable gardens, community spaces and a 'green' façade. All are part of the ethos of this 6 Green Star and 5 Star NABERS rated building.
It is clear that modern office buildings have a new set of priorities. Integrated lighting control is an unsung hero behind architectural ventures seeking to improve energy efficiency, support human health and productivity, and communicate big ideas.
Lightmoves offers a range of solutions in this space. Our team brings thirty-four years experience to largescale, complex and bespoke projects. From theatrical fit-outs to feature lighting, lighting control to custom manufacture, or even expert advice on one-off projects – our team has it covered. Get in touch today to discuss how we can help you achieve your next big idea.