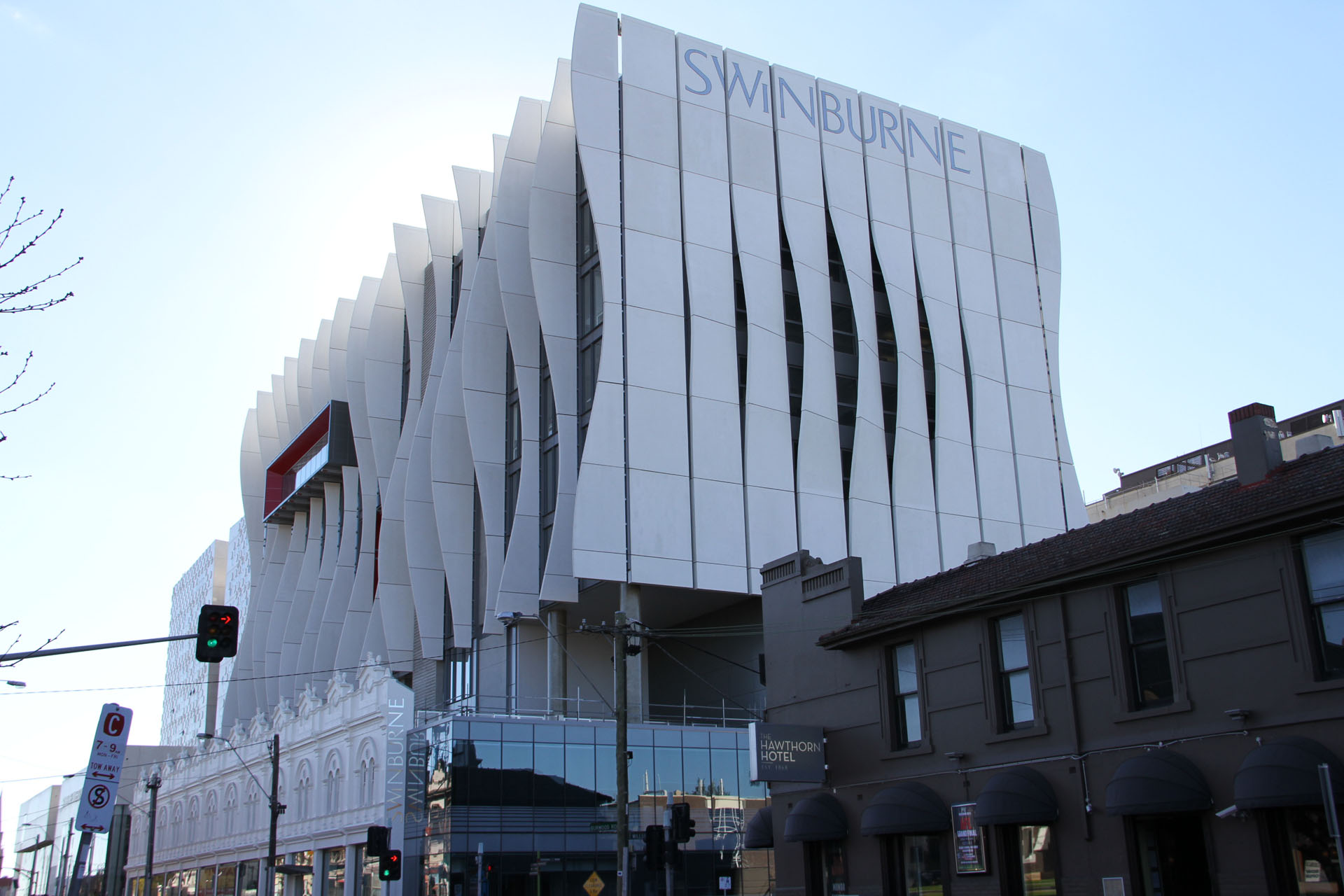 Swinburne University's Advanced Manufacturing Centre is a state-of-the-art, environmentally conscious building that is set to propel and further enhance the university's capabilities and standing as a leading research institute. Lightmoves worked closely with the building's electrical engineers Jacobs (formerly SKM) and electrical contractors Downer, to provide a networked lighting control system powered by Philips Dynalite.
The striking exterior of this $100 million facility, inspired in design by engine turbines, is not only designed to look impressive but to enhance the energy efficiency of the building by optimising natural light whilst providing effective shade. Cost and energy savings are further enhanced by the fully networked lighting control system provided by Lightmoves.
With a massive 550 network sensors, 408 network relay channels and multiple enumerated DALI universes, this enormous undertaking provides the facility with a fully networked system that provides real time tracking and reporting of every system device across the network. The lighting control system includes software that is easy to use and provides a graphical user interface that utilises the buildings own floor plans. The lighting system providing seamless control across the network and is also future proof by being fully upgradable via a simple firmware update.
The Swinburne AMC project also was one of the first projects in Victoria to utilise the new Philips Dynalite Antumbra user interfaces. Approximately 260 Antumbra network switch panels detailed with button labelling were programmed to facilitate the lighting control tasks required for each room. In addition to providing a sleek, functional design, each panel contains field effect technology, which can detect a person's presence by their body's own magnetic field and a temperature sensor, allowing the temperature to be monitored at different locations throughout the building.
In addition to providing lighting control to the whole building, Lightmoves also provided a specific lighting control solution for the auditorium on the building's third and fourth levels. As all the luminaires are DMX controlled, DMX integration and control was implemented allowing the devices to communicate with the main network.
For more information on this or your own future project please contact Lightmoves on (03) 9701 2500.
Architects: Wilkinson Eyre
Electrical Engineers: SKM
Electrical Contractors: Downer
Supply & Commissioning: Lightmoves