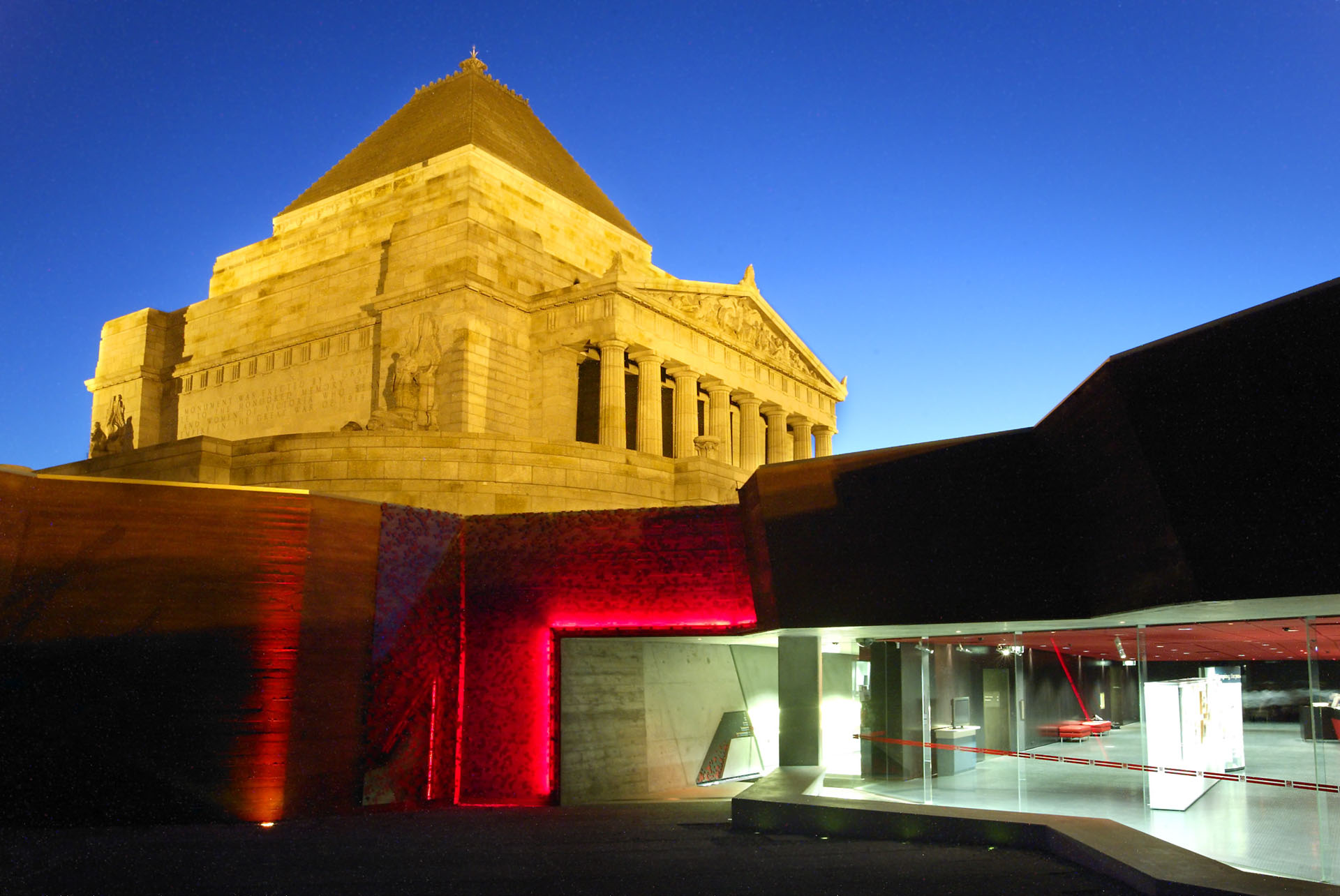 One of Melbourne's most recognisable landmarks has undergone a major upgrade with the recent addition of a new Visitor Centre. The contemporary 2000m2 centre includes exhibition spaces, auditorium, offices, courtyards, and the Gallery of Medals. The main feature of the upgrade was to make it accessible to visitors without having to climb 50 steps, a feat almost impossible for some older visitors and veterans.
Lightmoves was commissioned by several different designers to provide lighting solutions for various areas including exhibition lighting, fibre optic and L.E.D. lighting, architectural highlights and overall lighting control.
The Entrance Courtyard is a striking addition to the Shrine and features narrow red uplighters highlighting the jagged walls, and custom red Digilin L.E.D. strips that highlight the entry glass panels dotted with red poppy patterns.
Inside features a 40m wall adorned with various medals. Lightmoves worked carefully with the Shrine Trustees and contractors to develop a custom fibre optic solution to effectively highlight both the prized Victoria Cross medal, and the 22 different types of service medals. Due to space restraints, Digilin (Qld) were able to develop custom aluminium lenses to suit the job, and both the Kinetic halogen fibre light drivers and fluorescent tubes lighting the Medal Walls are dimmable by the newly installed Dynalite house lighting control system.
Not all work was confined to the new Visitor Centre however. The undercroft's original structural brick columns received some lighting treatment, as did the memorial Crypt right in the heart of the Shrine itself. Two Prolite metal halide 150W profiles with red dichroic filters provided the designer with the ability to solemnly highlight the torsos of the Father and Son statue.
The Shrine is now complete, and Lightmoves was proud to be involved in the upgrade of this important monument. The contemporary approach to a solemn subject has enabled both young and old to appreciate what our fellow Australians fought for many years ago.
For more information on LED & Feature Lighting contact Lightmoves on (03) 9701 2500.